Mosquito Misting Systems – Maximum Insect Control
Are mosquitos keeping you inside? Enjoy your yard again with mosquito misting systems to help protect you and your family. Outdoor insect control can be as simple as setting your home's thermostat with Crusader Mosquito Control's expert services. We have over 37 years of experience in outdoor insect control and have the solutions you need to make your yard comfortable again. We install, service & repair mosquito misting systems to help you fight these annoying and sometimes dangerous pests.
When you work with other companies who install mosquito misting systems, you often have to sign a contract for a service schedule. That means that you pay for refills even if you still have plenty left. At Crusader Mosquito Control, we are a family-owned and operated company, and we believe that you should only pay for the services you need. Therefore, we don't force you to sign contracts for your mosquito misting systems. Instead, we customize your service schedule based on your specific needs. We aren't here to nickel and dime you, we are here to take care of you and your family, just like we do our own.
If you're ready to take back your yard from disease carrying mosquitos, work with Crusader Mosquito Control for your outdoor insect control needs. We are fully licensed and insured to help you design your mosquito misting systems for the most effective mosquito eradication. When you call us, the owner himself answers the phone and talks to you about your needs to find the options that fit best for your yard and your budget. We are here to help you and your family.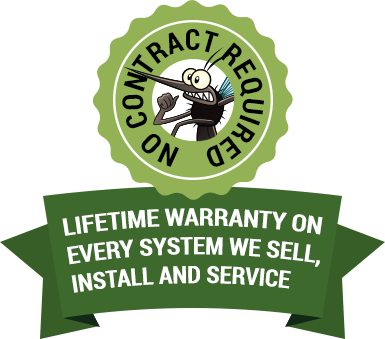 Authorized Dealer
MistAway® Mosquito Systems
We are an authorized dealer of MistAway® mosquito misting systems, the most innovative mosquito control systems on the market. We design these mosquito misting systems to ensure maximum insect control without sacrificing the aesthetics of your yard. Whether you're looking for a traditional drum top or a tankless mosquito control system, we offer the best installation, repair, and maintenance services in the industry. Each MistAway® system comes with a 1-year warranty. However, in addition to the manufacturer's warranty, Crusader Mosquito offers a lifetime guarantee on the pump, motor, and misting nozzles for the mosquito misting systems we sell, install, and maintain. We make sure you're taken care of.
Testimonials Why Choose Us
We moved into our home
We moved into our home and its giant back yard in 2012. One of the first things that was recommended was to get a mosquito system. BEST home investment decision I probably ever made. Larry has been servicing our homes for years and the addition of the misting system made being in the back yard year round possible. Have had no issues and it really does work. To top it Larry is just a very helpful and friendly guy! Thanks and highly recommended.
Patrick Seals
We love our misting system.
We love our misting system. The grandkids can now play in the backyard without being bite by those pests!
Reba
We are very pleased with
We are very pleased with the service we have received from Crusader Mosquito. The initial installation was very professional done. Larry is very easy to contact and he is always on time with every appointment. We definitely give Larry and his company a five star rating.
Charles latch
Harvey & Sharon Zinn
Larry has taken care of all our mosquito control needs for close to twenty years. We live on a lake and have constant issues, many years ago we installed one of his mosquito misting units. Greatest thing, now we can enjoy our patio and yard 12 months of the year. We are on a schedule and receive a call, "Larry will be out next week"! Whenever we have a new issue or concern, Larry responds ASAP. Great Service. On top of his professional side, he has become a friend. Harvey and Sharon Zinn recommend Crusader Mosquito Control.
Harvey & Sharon Zinn
Angie Menough
We have been using Crusader Mosquito Control for 3 years and couldn't be more pleased. They are professional, on time, friendly and go the extra mile to keep the mosquito and flying insects away. By the way, I appreciated Justin taking apart the fence to get those stubborn wasps out of our trash area. He put it all back together and we are grateful! Now maybe I can put the kids back on trash duty.
Angie Menough
Matthew & Gail Kilboy
We have trusted Larry to protect our family for over 20 years. Larry and his team at Crusader have always gone above and beyond to provide the most personalized and dependable service second to none.
Matthew & Gail Kilboy
Emily Regetz
We use Crusader for mosquito issues. We had them put a mosquito misting system on our property around the house and do not have problems with mosquitoes, and the house is surrounded by acres of open pasture land.
Emily Regetz
Reba
We love our new system. No more mosquito bitten grand kids. Thank you Larry.
Reba, Fort Bend County